Rotary Floor Scrubbers
Master Hire's Rotary Floor Scrubbers are perfect for cleaning dirty vinyl, marble, terrazzo finished, and polished timber floors. This machine is mounted with a floating skirt that allows the machine to both vacuum and polish at the same time. It is easy to use with a height-adjustable handle and a 15m heavy-duty lead. The offset motor provides exceptional balance and reduced starting torque to facilitate smooth operation and eliminates the risk of startup surface 'burn' and reduces operator fatigue. The Polivac rotary floor polisher has an overall weight of 46kg and is used with 400mm brushes and pads which are available to purchase from all Master Hire branches. The unit is fitted with a quick release system making changing of brushware or pads quick and easy. The brush speed is 375rpm and the unit is powered by a 1.3kW motor which requires 240v power.
Brush and Pad Options
Black Stripping Pad (Very Hard)
Blue Cleaning Pad (Hard)
Red Buffer Pad (Medium)
White Polishing Pad (Soft)
Polypropylene Brush Head (Soft/Medium/Hard)
*Poly Scrubbing Brush for scrubbing concrete and tile surfaces.
Product training and guidance
Our floor scrubbers are easy to use and Master Hire's free customer hand over includes basic training to ensure you can operate the machine confidently and safely at all times.
Delivery and Pick Up
Master Hire offers convenient delivery and pick up options. Speak to our team for delivery rates which may vary depending on location. For more information, or to enquire about our hire rates, contact Master Hire 1300 107 107.
For your safety, convenience and WHS obligations, user manuals and hazard assessments are available for a range of equipment.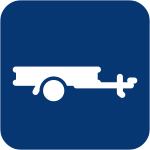 This item can be transported in a trailer or on the back of a ute.
Product Documents
Operator's Manual
Hazard Assessment