Backpack Sprayers
Master Hire's backpack sprayers are ideal for weed control or fertilising large areas of grass with ease. This 15L knap sack sprayer with quick fill tank can be used by nurseries, gardening and landscape contractors of do it yourself home gardeners. Ideal for areas with decorative plants and shrubs, public gardens, greenhouses and large areas with agricultural crops. This lever pressurised back pack tank weighs only 4.5kg when empty, and comes with shoulder straps and an adjustable spray nozzle.
Product training and guidance
Our knap sack sprayers are easy to use and Master Hire's free customer hand over includes training to ensure you can operate the equipment confidently and safely at all times.
Delivery and Pick Up
Master Hire offers convenient delivery and pick up options. Speak to our team for delivery rates which may vary depending on location. For more information, or to enquire about our hire rates, contact Master Hire 1300 107 107.
For your safety, convenience and WHS obligations, user manuals and hazard assessments are available for a range of equipment.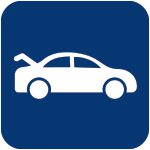 This item can be transported in the boot of a car.