Walk Behind Fertiliser Spreaders
Master Hire's walk behind fertiliser spreaders throw an even spread of fertiliser granules over your lawn. The wheels turn a mechanism that spins beneath the unit throwing fertiliser in wide arcs in it's path. Also known as a residential broadcast spreader, the unit is very lightweight having a minimal impact on turf and is easy to manoeuvre and transport. The unit provides a low profile to fit into the tightest corners, while the hopper mechanism ensures an even and balanced spread pattern. Additionally, the tyres are designed to roll smoothly over rough terrain. This spreader is compatible with not only fertilizer and grass seed, but also salt and grains.
These fertilisers have the following features:
18kg hopper capacity
Rust proof poly construction
3 hole drop shut off system
Heavy duty plastic wheels
Steel "T" bar handle
Product training and guidance
Our walk behind fertiliser spreaders are easy to use and Master Hire's free customer hand over includes basic training to ensure you can operate the unit confidently and safely at all times.
Delivery and Pick Up
Master Hire offers convenient delivery and pick up options. Speak to our team for delivery rates which may vary depending on location. For more information, or to enquire about our hire rates, contact Master Hire 1300 107 107.
For your safety, convenience and WHS obligations, user manuals and hazard assessments are available for a range of equipment.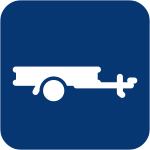 This item can be transported in a trailer or on the back of a ute.
Product Documents
Operator's Manuals