Portable Toilets – Disabled
Master Hire's special needs or disabled portable toilets are fully self-contained fresh water flush and have translucent ceilings for excellent light penetration. These specially designed toilets have easy ground level access (no ramps) and a self-closing, over-sized door. With all our portable toilets for hire, there is the option for on-site pump outs (waste removal) and cleans to keep the unit sanitised and smelling fresh. We recommend toilets be pumped out at least once per fortnight, but this may change depending on the number of people using the toilet or hot weather conditions. Wheelchair-accessible units are suitable for special events of all types including weddings, concerts, fetes, festivals and parties.
In addition, our disabled portable toilets also have the following features:
Foot and hand operated pump
Hand operated toilet flush
Large waste holding tank capacity 125L
Large water tank capacity 83.6L
Adequate ventilation on 3 walls
Lockable self closing door
Soap dispenser and sink
Roll-in ground level floor access
Interior handrails
Unit can be moved easily by 4 handles on each side
Dimensions: 1570mm (L) x 1570mm (W) x 2310mm (H)
Toilet Seat Height: 480mm (H)
Door Opening: 810mm (W)
Weight: 108kg
See Also: Portable Shower & Toilet Trailer, Large Disabled Toilet, Portable Hand Washing Stations
Delivery and Pick Up
Master Hire offers convenient delivery and pick up options. Speak to our team for delivery rates which may vary depending on location. For more information, or to enquire about our hire rates, contact Master Hire 1300 107 107.
For your safety, convenience and WHS obligations, user manuals and hazard assessments are available for a range of equipment.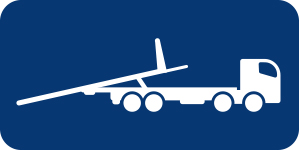 This item can be transported on the back of a tilt tray truck.
Product Documents
Operator's Manuals
Hazard Assessment