Water Fountains
Master Hire's water fountains provide clean, safe and fresh tasting water for your home or work site. Each water fountain contains a carbon-block filter which reduces chlorine taste and odour. The in-built thermostats are pre-set to 10 degrees Celsius water (under normal conditions), to keep the water cool and refreshing. Many of our water fountains are fitted with an optional glass filler taps. Our 240v water fountains are lightweight and require some initial installation plumbing to operate correctly. We also have units, available on request, with a Ingress Protection rating standard of IP33 (protected from water spray less than 60 degrees from vertical).
Delivery and Pick Up
Master Hire offers convenient delivery and pick up options. Speak to our team for delivery rates which may vary depending on location. For more information, or to enquire about our hire rates, contact Master Hire 1300 107 107.
For your safety, convenience and WHS obligations, user manuals and hazard assessments are available for a range of equipment.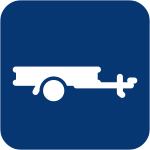 This item can be transported in a trailer or on the back of a ute.
Product Documents
Operator's Manuals