Wall Chasers
Master Hire's wall chasers are the ideal tool for cutting channels (chasing) in walls materials such as reinforced concrete, masonry and paving. The machine operates in the chase direction, from top to bottom or for horizontal chases, back towards itself. The diamond cut-off blades are 230mm in diameter and are designed for dry cutting (using water or other liquid coolants may result in electrocution).
To extract the dust generated by the wall chaser, you can insert a suction hose from a vacuum cleaner into the extraction unit on the shroud of the machine. Ensure that the spot where you wish to work is free of power cables, gas lines or water pipes (e.g. using a metal detector). In the case of very hard concrete and cuts deeper than 35 mm (65mm maximum), we recommend setting the cut in two steps to avoid overloading the machine.
You can remove the remaining strip between the two chases with an electric jackhammer. Always wear protective goggles, dust mask, gloves and ear protection when using this piece of equipment.
Product training and guidance
Our wall chasers are easy to use and Master Hire's free customer hand over includes a thorough walkthrough and training to ensure you can operate the machine confidently and safely at all times.
Delivery and Pick Up
Master Hire offers convenient delivery and pick up options. Speak to our team for delivery rates which may vary depending on location. For more information, or to enquire about our hire rates, contact Master Hire 1300 107 107.
For your safety, convenience and WHS obligations, user manuals and hazard assessments are available for a range of equipment.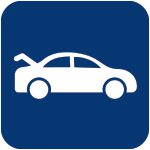 This item can be transported in the boot of a car.
Product Documents
Operator's Manual
Hazard Assessment