Master Hire has a large collection of portable toilets suitable for construction sites and public events. Before you have people start work on the jobsite you need to decide on the type of amenities you require and you need to work out how many portable toilets you need. How long are the toilets required to be there? How often do they need to be pumped out?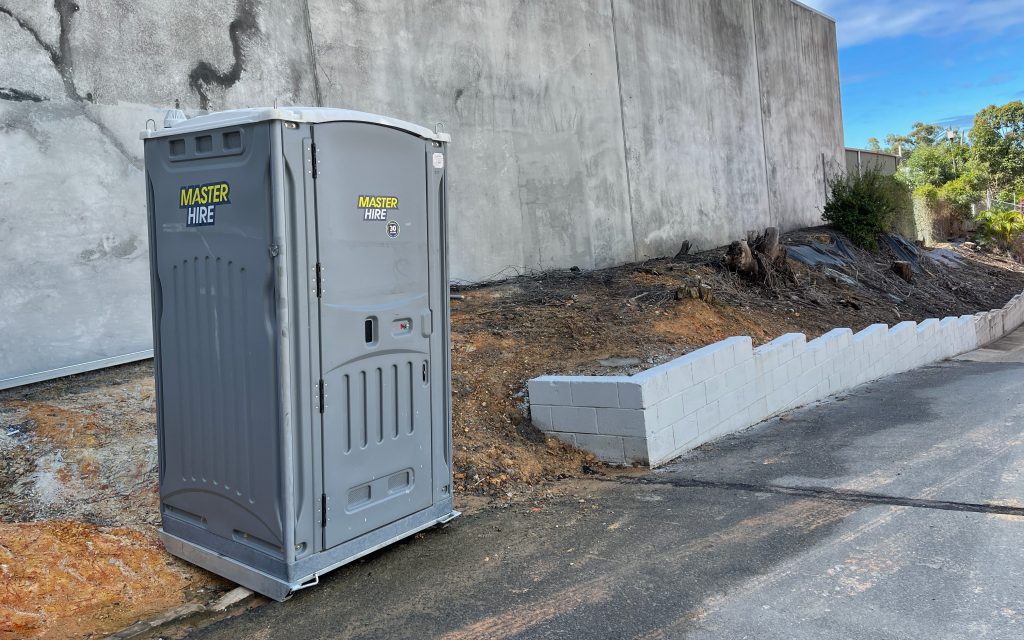 How many portable toilets do you need to hire for more than 15 tradies?
The number of portable toilets for construction sites will vary depending on the size of the jobsite, the number of people onsite and the specific legal requirements for your workplace. For construction work there has to be a toilet available to each construction worker and these toilets must be located within the boundary of the workplace where the construction work is being performed. Where there are no or insufficient existing sanitary facilities it has become standard practice to provide non-sewer connected portable toilets.
Jobsite Requirements
Here are some noted best practices and minimum requirements.
It is recommended that construction site toilets should be cleaned fortnightly (based on up to 5 people @ 2 uses per day per 5-day week). The onsite toilet pump out trucks are often fit for purpose and have a waste tank, freshwater tank and other sanitisation requirements.
< 5 people – 1 construction site toilet, cleaned and pumped out fortnightly.
6-10 people – 1 construction site toilet, cleaned and pumped out weekly.
11-20 people – 2 construction site portable toilets, cleaned and pumped out weekly.

21+ people – 2 construction site toilets (Add 1 Toilet for every 10 additional people), cleaned and pumped out weekly.
The minimum requirements (according to Queensland, Work Health and Safety, Regulation 2011) are as follows:
For 1 to 15 construction persons, there must be at least 1 toilet.
For 20 construction persons, there must be at least 1 toilet for the first 15 construction persons plus at least 1 toilet for the other 5, making a total of at least 2 toilets.
What type of Construction Toilets are suitable for your workplace?
We recommend you check Local Regulations for requirements, however straight drop toilets or chemical recirculating toilets are not suitable for most construction sites in QLD and NSW. For units not connected to a sewerage system, best practice is to have a number of fresh water flush portable toilets on site.
How often do you need to empty a porta-loo?
Master Hire can arrange porta-loos to be pumped out and cleaned on site. Exactly how often that occurs can be completely up to you. However in order to maintain a clean toilets, reduce odour and ensure that the toilet waste tank is does not over flow, these waste tanks will need to be pumped out. We recommend sticking to some guidelines from experience and insight from the HRIA.
These toilet pump out and cleaning schedules refer specifically to units that are not connected to a sewerage system. Costs for these regular pump outs can be reduced by installing a specialised units and connecting them to an existing sewerage system. These are known as Sewer Connect portable toilets.
Legal Requirements for Toilets on Jobsites
Councils in your area will have guidelines or laws around holding a large scale events. We recommend checking your regions requirements and State Legislation as to how what amenities are required for the scale and type of construction jobsite. Jobsites with subcontractors can be tricky if you don't know exactly the number of people onsite any any given time.
Choose Master Hire for your Construction Site Toilet Hire
Portable toilet rental periods can be anywhere from a few hours to a few months, you can even rent a porta potty for a day. We can deliver the them directly to you or you can collect a trailer mounted one from any of our branches. Delivery prices will vary depending on location. For Master Hire store locations, portable toilet prices and opening hours, visit our contact us page.